Who we are and what we do
The Marie Trust is a Glasgow based homelessness charity. 
From our base in Midland Street, near Central Station in the middle of Glasgow, we offer a range of person-centred services to prevent and alleviate homelessness and promote social inclusion.

Our aims are to:
To prevent homelessness, poverty and social exclusion
To alleviate the effects of homelessness, poverty and social exclusion for 
those who experience it
To advance education and opportunity for homeless and socially excluded 
people
To enhance health and well-being for the people who use our 
services
On our website: http://www.themarietrust.org/, you can find out more about our work, why we do it, and the many, practical ways we help homeless and socially excluded people.

You can also find out about our staff and volunteers, who we partner and collaborate with, and how our important work is funded.

And perhaps most importantly, you can find out about the different ways you and/or your organisation can help us in our work, tackling homelessness and its associated problems.
Six week oral history study programme
We were delighted to have Dr Sue Morrison work with us at the Marie Trust
Sue is an expert oral historian and delivered a six week oral history study programme to our service users and staff.  The programme included:
Oral history methodology and training
Conducting oral history interviews
Audio editing/ creating audio clips
Summaries and transcriptions
Using oral history
Creating an oral history output
Service users also enhanced existing 'soft skills', including communication, writing and interpersonal skills, and they had opportunities to use and further develop their creative skills.
All the students demonstrated commitment and determination and completed their tasks with great enthusiasm.  They were all awarded Oral History Training Certificates and presented with copies of an original oral history film, created by Sue and featuring their interviews and the gorgeously atmospheric street photography of Donald John MacLean.  The lovely film music is by Syd Fraser, one of the oral history course students. 
We were so impressed with Sue's work that we've invited her back to work with the Marie Trust later this year!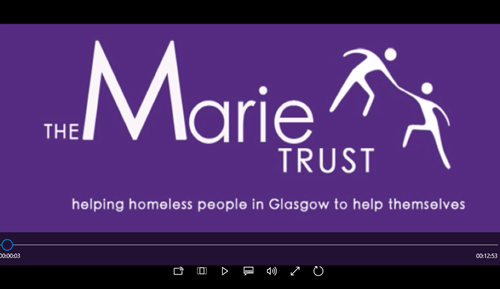 Oral History Research & Training Consultancy
Oral history heritage professionals serving Scotland and the UK