'Everyday People: Untold Stories'
(Clydebank, West Dunbartonshire, Scotland)
This innovative participatory project is gathering stories of people and communities from various ethnic backgrounds living in West Dunbartonshire and the surrounding area. The project is also conducting research into the positive impact made by different ethnic groups in Scotland since WWI.
The project has trained a number of volunteers, including young people from ethnic minorities, Eastern Europeans and native Scots. Training opportunities have addressed oral history methodology and practice, photography, film making, social media and basic research skills; these have equipped volunteers with the skills to allow them to do research and to conduct oral history interviews. Respondents' stories are being recorded on audio and/or film. Results of the research are shared with the community through the project's oral history archive and several showcase events. 
You can view some of the films and audio clips at:
http://isaronetwork.org.uk/oral-history/
'Black History Month' event - what a success!
On Wednesday 14th October 2015, 'Everyday People' held an inspirational event at Centre 81. Over 140 visitors, volunteers and respondents enjoyed listening to speakers, participating in creative art activities for children, and the launch of our first project gallery exhibition portraying the culture and memories of respondents from our wonderfully diverse communities. 
The audience was also treated to the premier screening of 'Everyday People: Gallery Exhibition Film', which was written, edited and created by Sue Morrison, using materials created by our fantastic volunteers! The short 'taster' gallery film included wonderful extracts from the project's oral history interviews, and ended with a tantalising burst of music and song from the amazing Gypsy Big Luck band!

By the way, Gypsy Big Luck, an authentic Gypsy musical band, are available to book for performances!  Contact: 07501025959 / 07824707085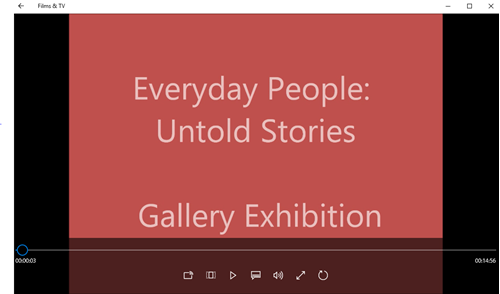 International Women's Day, 2016
To celebrate this year's International Women's Day, Isaro Social Integration Network hosted a free celebration event, featuring visiting speakers, health and beauty taster sessions and drama performances, lunch and refreshments.
The highlight of the event was the premier screening of 'Everyday People: Untold Stories, an oral history video written and created by Sue Morrison, Oral History Research & Training Consultancy. Profiling several participants from the 'Everyday People' oral history project, the video reveals much about the lives of migrants now living in Scotland. The video was rewarded with resounding and heartfelt applause from the 100+ strong audience!
The video (and a series of shorts adapted by Sue) now form an integral part of our mobile exhibition, which centres on the experiences and memories of migrants living in West Dunbartonshire and wider Glasgow.
You can watch the videos online at: http://isaronetwork.org.uk/oral-history/
        

Get Involved!
If you would like to volunteer with Isaro, please contact us: Tel: 07824707085 or email: admin@isaronetwork.org.uk
Oral History Research & Training Consultancy
Oral history heritage professionals serving Scotland and the UK