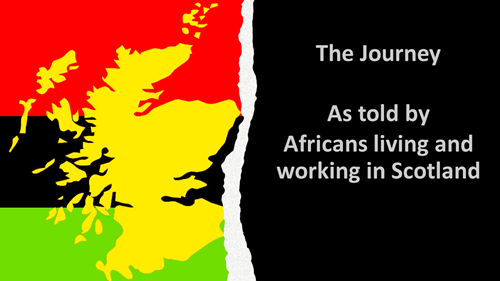 JOM Charity, Oral History Research & Training Consultancy, and Communities Past & Futures Society, wish to express heartfelt thanks to Museums Galleries Scotland, Year of Stories 2022 Community Stories Fund, for funding this wonderful project.
Professional oral historians video recorded the testimony of Africans as they related stories of their physical, emotional, and cultural journeys from their homeland to Scotland. Each respondent explained their reasons for leaving Africa and for choosing to settle here in Scotland. We are indebted to those respondents who shared their stories and allowed their testimony to be featured in video interviews and the project film, and also in a wonderful wee booklet and at several exhibitions and project websites.
Click on the links below to learn some of those stories and view some of the beautiful artwork inspired by African-Scottish cultures, experiences, and memories.
The Journey - Project Film: https://youtu.be/CY4FLivWpWk


An Interview with:
Chief Josephine Oboh-MacLeod: https://youtu.be/r1dtYobLVCc
Sean Reid: https://youtu.be/mWgbx1EQX2I
Olivia Ndoti: https://youtu.be/nX6bO8h6y1U
John Williams Osehi: https://youtu.be/vV8CFU-V4UY
Dr Ade Aibinu: https://youtu.be/x1GkPgnmF4A
Giscard Kuimi: https://youtu.be/q_VR49DyqUM